Or, do you Wear your hair?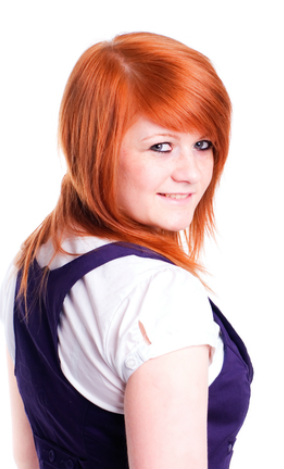 Women have been dressing their hair for thousands of years. The act of enhancing a woman's natural beauty is not new, and with each generation we have seen women emerging with their own versions of what is beautiful. Looking at trends is part of the fun! As each new hot look passes through, we get to decide what works for us and what we don't feel is a good fit.
Not sure what will suit you? As a Hairdressing Professional with over 20 years experience, I help women define their own unique style. Located in a quiet boutique setting, I offer professional individualized service to my clients. Complimentary consultations are always recommended.
Hairdressing Salon Located in Brentwood Bay, B.C. - We serve clients from Victoria BC and all over the US & Canada!
Does your haircut suit your face shape? What is chic in hair designs?

Sometimes all we need to change flat, dull looking hair is a new haircut. A new face framing shape can take away heaviness in the hair and give fullness in the areas we want to have more height.

Love Halle Berry's short cropped do'? Love the versatility of Julianne Hough's haute mid-length bob?

It is always important to consider your individual style when choosing a new look for your hair. I take into consideration not only your face shape, but hair texture, volume of hair, styling difficulty & your lifestyle. I offer a FREE consult so we can determine your hair's texture, length and style suitability. Get in touch to book your appointment: 250-652-1310.

Do you have difficulty covering grey or white hair?

There are many ways to address difficult to cover grey and white hair. Choosing the right color is as important as the technique used to get the results you want. The factors we consider include; how much grey you have (i.e. percentage of grey), what is the texture of your hair (wiry grey vs. fine soft white), what would suit your skin color and personality. Then we would decide which technique would suit your look and what upkeep schedule would suit your schedule & budget.

A professional consultation with a color technician is always the right answer! I will help you wade through the endless possibilities and discuss tone, depth and shade to find the right color for you.

Is your hair flat and lacking body, even after styling it?

Styling your hair at home can be challenging, but it doesn't have to be. You may only need one product and your fingers to recreate those popular summer beachy waves.

Two of the most common questions I get from women are, "How do I get this look at home?" and "How long is this going to take me?" Along with choosing the right hairstyle, I coach my clients on how to work with products and maintain their new look on a daily basis. You don't need to have a professional style your hair everyday to look like you just came from the salon! You just need the information and the right tools.